One of the biggest mistakes that I made when traveling to Mozambique was underestimating how hot the weather would be. With a rudimentary knowledge of Portuguese, I scoured Maputo for sunscreen, which also turned out to be an expensive exercise.
Using a weather app takes the guess work out of planning your dream vacation.
Make sure that you are using an international prepaid SIM card to remain connected on your trip abroad.
What is weather app
Weather conditions can make or break a vacation. While most travellers can only get time to travel during the summer when they get annual leave from work, this is the high tourist season in most countries. To avoid the crowds travelling during spring or fall may be the best option. However, the weather during these months can be temperamental.
Using a travel weather app will give you information about the weather you are likely to encounter at your location. Therefore, you can pack your bag appropriately.
Weather forecast apps provide detailed local forecast & weather forecast world wide, the app provides the current temperature in Celsius and Fahrenheit, sunrise and sunset time according to city time zone.
Benefits of a weather app
There are a number of benefits to using a weather app.
1. Useful Safety Information. Trip planning apps help us get the important notices on strikes or weather-related disturbances and give us 24-hour emergency service, so we can have a safe vacation with our friends and family.
2. 24/7 Accessibility. The need for travel apps is eminent because of their features and functions. Travel apps are always there to provide any kind of information useful to travellers at their convenience and at the right time.
3. Networking and Sharing. Travelling is all about sharing and networking. You cannot travel alone these days, thanks to apps. With numerous travel apps and social media platforms (Facebook, Instagram, Twitter), you are always connected to your dear ones.
4. IoT based Decisions. Getting lost in a new city isn't fun in general and can be hard when you are a tourist. That is where IoT-based decisions such as geolocation come into play. IoT-based solutions play a vital role in travel apps to provide suggestions and guides according to users' choices.
5. Customized Apps. When a travel mobile app development company offers a customized, user-friendly app, it becomes popular and gains a competitive advantage over its rivals. However, the most effective apps can be customized according to the front-end and the back-end requirements.
Weather Bug
Want a weather app with all of the features? Download Weather Bug.
Best Features:
Everything from pollen count to barometric pressure, live cams to lightning detection, is available.
Severe weather alerts for your current location give you a warning of what lies in store
Pricing: Free
Download: WeatherBug – Weather Forecast (iOS) 4.8 star rating | Weather by WeatherBug  (Android) 4.6 star rating, over 10 million downloads.
Planning an international vacation? Make use of a top travel app.
Further reading: Top 110 Best travel apps (2022 International tourist guide).
Weather Channel
Weather Channel is a weather app with a simple interface
Best Features:
It covers the basics quickly and well, with a "Now" screen that includes temperature and description, and expands to give more info with a single tap.
Short video forecasts and predictions like "Expect rain to start at 2:30 pm" set the app apart from the rest, with hourly and longer-term forecasts also available.
Pricing: Free
Download: Weather – The Weather Channel (iOS) 4.7 star rating | The Weather Channel – Radar (Android) 4.6 star rating, over 100 000 000 downloads.
Are you wondering how many times your favourite travel app has been downloaded?
Further reading: Top 10 most downloaded travel apps (2022 Tourist guide).
AccuWeather
AccuWeather sits somewhere between the two apps listed above, providing plenty of information, in a clear, simple format that doesn't overload the user.
Best Features:
The hourly forecast is attractive, presented in both graph and text format, while the daily predictions benefit from a status bar that alerts to the likelihood of severe weather in the next few days.
"RealFeel" information (what the weather actually feels like outside) is a nice touch, especially when traveling in particularly humid or cold destinations.
Pricing: Free
Download: AccuWeather: Weather Alerts (iOS) 3.2 star rating | AccuWeather: Weather Radar (Android) 4 star rating, 100 000 downloads.
Do you know what a travel app is and the benefits that they can offer you?
Further Reading: What are travel apps & why every tourist needs them.
1Weather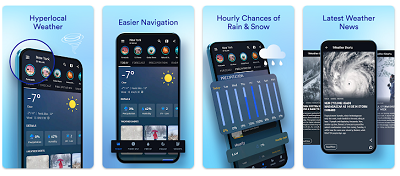 1Weather strikes that rare balance of doing just the right amount, without trying to do too much. It's easy to see current, daily and weekly forecasts for your current location or, with a couple of taps, anywhere else on the planet.
Best Features:
Information is presented clearly, and you can see highs, lows and general forecasts for the week ahead at a glance.
Details for the current day include wind speed, humidity, ​chance of rain in the next hour, and more.
Pricing: Free
Download: 1Weather: Forecast and Radar (iOS) 4.3 star rating| 1Weather: Forecast & Radar (Android) 4.2 star rating, over 50 million downloads
Remaining connected when you are travelling abroad is important.
Further reading: What is international roaming & how it works.
Yahoo Weather
Pulling attractive, location-specific backgrounds from Flickr, Yahoo Weathers first impressions are deceiving. All you see is a very basic temperature and forecast at the bottom left.
Best Features:
Scrolling down in the apps home screen reveals a lot of data.
You can swipe left and right to check out other locations, and the range of Android widgets are also attractive.
Pricing: Free
Download: Yahoo Weather  (iOS) 4.7 star rating| Yahoo Weather (Android) 4.4 star rating, over 10 million downloads.
International roaming can be expensive. However, there are ways to avoid them.
Further reading: How to avoid roaming charges (2022 Travellers guide)
Weather websites
| | | | | |
| --- | --- | --- | --- | --- |
| Name | Description | Best for | Searches on Google | Cost |
| National Weather Service | The National Weather Service offers radar data free from its website and is relatively easy to use, and the site was recently updated, making it easier to use than before. | Tracking weather | Over 20 million | Free |
| The Weather Channel | The Weather channel is a website that offers a comprehensive weather forecost for your vacation location. | Accessing a comprehensive weather forecast | Over 20 million | Free |
| Windy | For outdoor enthusiasts that might require a more comprehensive look at the weather, especially boaters and pilots, Windy provides an update on wind conditions. | Accessing live wind conditions | Over 20 million | Free |
| AccuWeather | AccuWeather is a website that provides a comprehensive weather forecast for your desired location. | Accessing comprehensive weather conditions and 10 day or monthly forecasts. | Over 20 million | Free |
| Weather Underground | Weather Underground is an excellent website if you're looking for both radar information and hyperlocal weather conditions. | Tracking weather conditions. | Over 20 million | Free |
There are significant benefits to travelling abroad.
Further reading: 20 Benefits of travelling abroad (2022 International tourist guide)
While weather apps give you a comprehensive view of what weather conditions to expect at your location, it is always advisable to pack a light winter jersey or sweater in case there are sudden changes in conditions
Weather apps FAQ
How do I know if I am using a top weather app?
When considering downloading an app, look out for the star rating that the app carries as well as the number of times it has been downloaded
What are the advantages of using a weather app?
Weather conditions can make or break a holiday. Using a weather app allows you to make an informed decisions about picking the right vacation desination.
Will I have to use multiple weather apps to plan my trip?
No. Most weather apps track the same data. The only difference may come in the presentation of this data.
Will I always need connectivity when using a weather app?
Yes, connectivity is important when using a weather app. Make sure that you have enabled international roaming so that you can access a mobile network in the country you are visiting. Alternatively, make use of free WIFI.
Can I change the units of measurements in a weather app?
Yes. Most apps allow users to change the units of measurements to suit their preferences. Some apps may even present information using both Degrees Celsius and Fahrenheit