On the Baltic seas of Germany, you'll find the Island of Rugen. It is a well-known vacation destination for many tourists. Rügen Island is a very lively and fun-filling island with a well-cherished history. It's a jewel to Germany.
Summertime is the best time of year to visit the towns and resorts of Rugen Island. Most of them contain water sports, beach promenades, and more summertime activities.
Rugen Island all-round is not a huge island however is the biggest Island In Germany.
However, as Ugly as its history may be, The architecture, Its heritage sights, and the island are worth the visit. One of the main landmarks that make Rugen Island unique is the king's chair.
There are only 4 Main towns on Rügen Island Germany. You would need an estimate of about 4-6 days to fully experience and enjoy the towns on Germany's Rugen Island. In this article, you'll be getting a brief insight into the towns on rügen Island. In total there are at least 41 other Municipal communities and seaside resorts.
Bergen.
Plan and pre-book accommodation to avoid any loss or late inconveniences. Check out these recommended hotels and accommodation rentals whilst touring the town of Bergen.
One of the best places to stay in the town of Bergen is Gutshaus Kubbelkow. You have a luxurious Room, with a beautiful scenic view. There is a spa with access to a steam bath, a sauna, and a garden.
when staying at Gutshaus Kubbelkow, free WIFI, a restaurant, and even bicycle rentals will be available. The lodge is about 3.5km away from the Bergen city center. Other Means of transport is The train station 3km away from Gutshaus Kubbelkow lodge.
The Gutshaus Kubbelkow lodge offers high-quality standards of fine dining and good food, Although there are a variety of places to eat and fine dining in the town of Bergen. Other highly recommended places to eat that have high ratings are Gastwirtschaft am Markt and Meyers Tuffel.
Take a tour of the town and visit the amazing church of St. Marian (St. Mary's). Housing some of the latest Romanesque Paintings that show fine artwork of Biblical design.
The Benedix House is also one of its kind in the towns of Rügen island, it is a half-timbered structure that is the oldest of its kind. The Ernst Maritz Arndt Tower is a historical observation point where you get to see the best of Bergen Town.
Population: 13,572
Postal code: 18528
Time Zone: UTC +01:00 (CET)
Summertime:(DST) UTC+02:00 (CEST)
Location: Bergen Af Rugen Germany
Total Area: 51.42 km2
Sassnitz.
Welcome to the beautiful town of Sassnitz. Rugen Islands main harbor and porting town. Although it doesn't seem interesting this town holds many little unique gems and secrets of beauty.
There is currently a population of 9,485 people. It has an area of 46.45km. The chalky cliffs and scenic tours are breathtaking.
Three ideal places to check out when exploring the town of Sassnitz are the Jasmund National park, the U-Boat museum, and of course the Fischereihafen Sassnitz.
Jasmund park is ideal when looking for hiking trails, cycling trails and great view stops. It has a real nostalgic forestry vibe so perfect if you're looking to absorb nature's peace. Although keep in mind there will be many tourists.
If Marines pique your interest, then step aboard the U-Boat. Another name for the U-Boat is H.MS Otus. The unique only British submarine located in the oceans of Rugen Island. Displayed for many tourists, showing a display of what life was like living onboard.
Hungry for some delicious food whilst on tour? Why not try out Strandcafe and restaurant Sassnitz? A beautiful restaurant where you can enjoy a divine dish with a beautiful view of the Baltic ocean.
If you are not the type of person who wants to mission for a good meal. then not to worry, let fine dining come to you. When you book your resort or accommodation, why not book at Gastmahl Des Meeres? One of the most recommended and highly rated lodges on Sassnitz island.
Gastmahl Des Meeres offers a restaurant of fine dining inclusive of lunches and dinners. With luxurious accommodation, Great views, And excellent service.
And What's even better is that it's located on the beach promenade about 200 feet from the ocean. What a deal breaker.
Putbus.
Visit the town of Putbus, filled with some of the most beautiful landscapes, and architecture. A variety of scenery from urbanized buildings to historical buildings that's been standing for centuries. Enjoying the two atmospheres of an old and new world.
Could you imagine? 700 represented rose bushes all aligned and in a neat arrangement, That is where Putbus gets its second name "Rose- city".
An exciting adventure would be to hike through the nature park of Insel Vilm. A place of pure beauty and described as being almost like an island on an island. This is a vacation with the best of both worlds.
when being on vacation you want to get the best experience out of the destinations you choose. Like booking your accommodation you don't want to go wrong. Take a look at PutBus's most 3 charming Hotels and holiday rentals.
Hotel Badehaus Goor
Fürstlich wohnen
Wreecher Hof
Let us not forget How we all enjoy foreign cuisine or at least like trying new things. One of the things I know and have tried is some of the meat from Germany and it's something you have to try at least once. A highly recommended place to check out is the Jagerhutte. They more focus on serving the best meat.
Although Putbus is not directly on the beach, Other places hold such historical value and meaning. A few would include the Theatre of Putbus, there are often special artistic events or shows held at the theater, and the building itself is a beautiful piece of historical artwork.
Population: 4,487
Postal code: 18581
Time Zone: UTC +01:00 (CET)
Summertime: (DST) UTC +02:00 (CEST)
Location: Vorpommern- Rugen
Total Area: 66.60 km2
Garz.
Germany is such a beautiful country to visit let alone it has this unique Island of rügen with the most beautiful interesting seemingly hidden towns. Let's explore and get to know the town of Garz.
In 1316 Garz officially gained independence as a town. This town is full of historical adventures.
One of the best accommodations to check out is the Gusthuase Losentitz( Manor House). This is not a house but a mansion.
The manor house is a sight landmark. It holds a well-maintained and preserved library of great value, with paintings dating back to the families that acquired the property during the centuries. These paintings hold cultural significance.
Other things in the town of Garz include the Rugenfahre (ferry) tours to and from different points of interest. There are also several historic Museums to visit and explore getting full insight into the history of the town and its people. One of the most well-known and recommended museums to visit in Garz is Ernst Maritz Arndt Museum.
If you're familiar with Oktoberfest then this is a place you want to go dine in. The Tegernseer writshaus & Biergarten. Yes, they host the annual Oktoberfest festival at this facility. You best believe they have darn good beer. Two other places to enjoy a good meal at is Freustil and Sudeck Bergen.
Population:  2,215
Postal code: 18574
Time Zone: UTC +01:00 (CET)
Summertime: (DST) UTC +02:00 (CEST)
Location: Vorpommern- Rugen
Total Area: 65.44 km2
For further reading: Benefits of a travel SIM card (2022 International tourist guide)
Binz.
Binz the largest seaside resort on the island of Rugen. There are currently 5,488 people residing in this resort/town.
The Binz Strand is one of the most beautiful coastal beaches. There is a range of fun activities to get you and the whole family excited. There is water sport activities, entertainment, shopping vendors as well as top-rated restaurants to enjoy a Devine meal.
Other Really fun activities to do and see in the town include the Grantz Hunting castle. The Grantz Hunting castle welcomes up to over 200 000 visitors a year.
It is known to have been built around the 1830s. Inside the castle, it has a long spiral staircase which has been a highlight for many tourists. Last but not least is Naturerbe Zentrum a multi-story with learning exhibitions, and observation decks along the tour.
Don't forget to check out Byntze 1318 a unique cocktail bar and enjoy a fine dining evening with the perks of having some of the most delicious cocktail mixes.
Personally, there is nothing better than having a portion of good food and a good view. Stop over at the Binz Strandcafe to get a great view of the baltic ocean and white sandy shores of Binz whilst enjoying the best food around town.
If this doesn't sound exciting enough then your accommodation is just the treasure to top it off. There is nothing better or more relaxing (depending on what you find relaxing) than falling asleep to the sound of the waves crashing down. So take a look at Kurhaus Binz. Enjoy the spa resort and free wifi when you spend your evenings at this refined Hotel.
For further reading: Top 10 Most beautiful beaches in the world (2022 Tourist guide)
Baabe.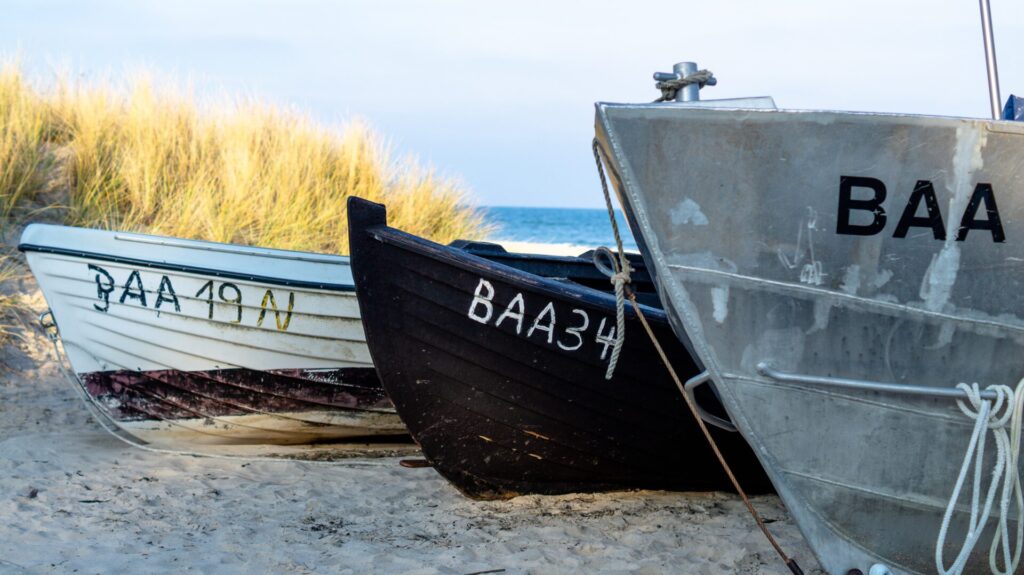 Welcome to Baabe resort. Baabe has thatched houses that had been built by some of the local settlers centuries ago. Baabe is a small reserved town that may seem irrelevant, but there are some hidden gems. Let us take a look, shall we?
Book your night's stay with some of the finest accommodations and hotels in Baabe. Hotel Am Meer is only about 100m away from the Baabe beachfront, and this area is suited for activities including hiking and cycling. The hotel offers free Wi-Fi with a lovely outside area with a barbeque set.
Don't feel like cooking during your vacation? Not many of us do, so why not spoil yourself with a meal at the Zum Fischer? This restaurant offers some of the best local seafood there is.
If you don't enjoy seafood then don't worry. You can enjoy the local cuisine and try some street food at the Luettte Matten. Or simply order yourself some takeout at Cafe Klatch a fast food diner.
Looking for something interesting to do while at Baabe resort? Yogareise Rugen is something to check out. They offer a range of tourist guides from cycling trails to hiking guides and tours.
Although there isn't too much more than that to do, keep in mind it is just a small municipal seaside resort. Taking a tour of just the towns you'll be amazed at the little trinkets set up for Tourists to enjoy mainly water fountains and parks.
Population:954
Postal Code: 18586
Time Zone: UTC +01:00 (CET)
Summertime – UTC+02:00(CEST)
Total Area(km): 2. 26km2
Location: Germany- Mongchut- Granitz-Rugen-Baabe (Municipal)
Göhren.
Let us have some fun. Why not try out the water sports that Göhren has in store for you with Proboarding Windsurfing? So get wet, get wild and enjoy the waters. Dunengolf Göhren where you can play Put-Put and have fun with the whole family. If taking a slow bicycle ride on the streets and parks of Göhren then make a stop at Fahrrad Tilly where they offer gear rentals.
Göhren is a seaside resort, so there is the Göhren pier. The pier was reconstructed and refurbished in the 1990s. The Göhren Pier is estimated to be about 270 meters long. That's also enjoyable to do in the late afternoon or early evening, Taking a stroll on the pier and enjoying the peaceful atmosphere.
Three of the top recommended accommodations include:
VJU Hotel Rugen
Hotel Walperle
Koopmann's Hotel
Depending on the cost, I would suggest trying these absolute favorite Restaurants On Göhren resort, With some of the best cosines from local to international meals with excellent service.
The TafelWerk
Die Raucherei
Tennisstubchen Inh.Harald Peschke
Population: 1,315
Postal code: 18586
Time Zone: UTC +01:00 (CET)
Summertime: UTC+02:00(CEST)
Location: Mönchgut-Granitz
Total Area: 6.89 km2
For further reading: Top 10 Tourist attractions in Brandenburg (2022 German travel guide)
Sellin.
Sellin resort was originally founded in 1295 and officially began to gain some independence in the year 1880. After the war, there was a lot of restoration and reunification of buildings and architecture. One of them is the Sellin pier which was rebuilt in 1992.
One of Sellin's most extraordinary sights to see is the Amber museum which originated in 1999. The Amber museum is home to Rugen Islands' most extraordinary and valuable artworks. Go play a game of mini golf at Seepark Putter enjoyable for you and the whole family.
You could Visit the Rugen-Kite. A camp out where they offer a range of fun water activities and water sports. You would find active and fun nightlife, Jungle excursions and nighttime adventures, and different markets to enjoy.
However, That's not all, there are several bicycle trails to do in Sellin along with beautiful hikes and trails to explore. Don't forget to check out Galerie Hartwich which is the old fire station on Sellin resort. I'm sure they have some epic fire trucks and gadgets.
Why not have the best Hotel room at the seaside resort? Book a night's stay at the infamous Hotel Seeschloss Sellin. This lovely unique hotel looks over the amazing pier of Sellin. It also has a restaurant that's part of the hotel which has a high rating of 4.5 for their really good food. Getting beauty sleep and good food in one place.
Population: 2,653
Postal code: 18586
Time Zone: UTC +01:00 (CET)
Summertime: UTC+02:00(CEST)
Location: Mönchgut-Granitz
Total Area: 14.33 km2
For further reading: Things to do on Germany's Rügen Island (2022 Tourist guide)
This article is just a brief guide as to why exploring the towns on rügen island Germany is a must. Enjoy the chalky white cliffs whit soft white sand. Bike trails, and amazing local food spots. Enjoy outdoor activities from water sports to hiking on the most beautiful scenic trails of Rugen Island. Each town has its character making each one a unique visit and experience to enjoy.
Before you go ahead and instantly book your next flight. So buy a German travel SIM card to help you with your travel experience so that you can explore and stay connected with the rest of the world during your vacation.
Towns of Rugen Island FAQs
How many towns are on Rügen island?
There are 4 main towns on Rugen Island.
What is the biggest town on Rugen Island?
The Biggest town on Rugen Island is Bergen Town
What is the smallest town on Rugen Island?
The smallest town on Rugen island is Thiessow.
How is the weather on Rugen Island?
The weather on Rugen Island is great however both summer and winter time its partly/ mostly cloudy.
what is the most popular town on Rugen Island?
The most Popular town on Rugen Island is Is Binz which is more of sea resort than a town.
How many municipalities are on Rugen Island?
There are 41 municipalities on Rugen Island Inclusive of the seaside resorts.