There is nothing as refreshing as visiting amazing beaches on the West Coast of the United States for your next vacation. From walking on a perfect stretch of sand, and swimming in clear water to experiencing breathtaking sunsets, this is the ideal destination for your next trip. Let's go through the top 5 West Coast beaches to visit in the USA.
It is also best to get a USA travel SIM card while going on your trip to be able to communicate with your loved ones at very low rates.
Cannon Beach, Oregon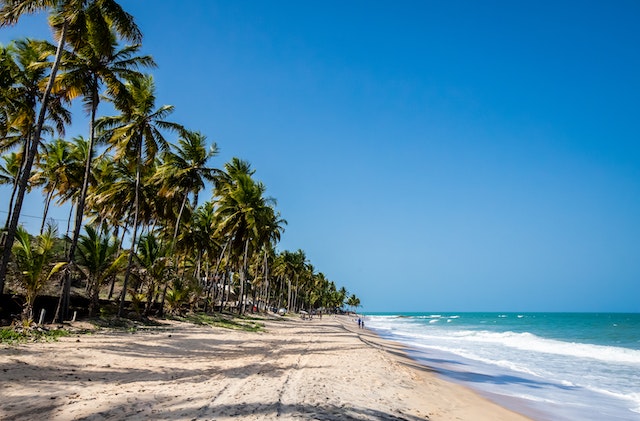 Cannon Beach is home to amazing restaurants, boutiques, art galleries, and oceanfront lodging, as well as four major parks. The beach is also known for its landmark, Haystack Rock which stands at an elevation of 235 feet. The Haystack Rock is accessible to visitors by foot during low-tide during the summer months. C The Beach also featured in the last scene of the 1991 cult classic Point Break.
Located just 90 minutes from Portland, Cannon Beach is one of the most photographed shorelines in the country. It is a National Wildlife Refuge home to Tufted Puffins among other bird species. You can take part in activities such as kite surfing and surfing during your visit to the beach.
Laguna Beach, California
Laguna Beach is a Southern Californian beach town located midway between Los Angeles and San Diego. It is famous for its mild year-round climate, scenic coves, environmental preservation efforts, and artist community. The Laguna Beach coastline is protected by 5.88 miles (9.46 km) of state marine reserve and an additional 1.21 miles (1.95 km) of state conservation area.
The beach is a popular tourist attraction that attracts the wealthy and famous. It also has about six million visitors annually, and it is home to many popular annual art festivals such as the Pageant of the Masters, Festival of Arts, Sawdust Art Festival, Art-A-Fair, Bluewater Music Festival, and Kelpfest. There are many interesting things to do while visiting the beach such as shopping, hiking, outdoor adventures, beach gallery tour, nightlife activities, and many more.
La Jolla Cove, California
Located in San Diego, California, La Jolla Cove is a small cove with a beach that is surrounded by cliffs in La Jolla. With visibility up to 30 feet in depth, the area is protected as part of a marine reserve and is popular with snorkelers, swimmers and scuba divers.
The beach is the most visited attraction in the neighborhood of La Jolla as it is popular for its crystal-clear, warm water, spirited sea lions, and breathtaking sunsets. You can take part in amazing everyday activities while visiting the beach, such as oyster picking, clam digging in cool waters, frolicking on horseback, casting for salmon, halibut, and many more. The beach also hosts the annual kite festival which will be an addition to your enjoyment during your visit.
Further reading: Top 5 best USA cultural festivals
Pfeiffer Beach, California
Pfeiffer Beach is located in the Big Sur region of California. Known for its dramatic sea stacks, Pfeiffer Beach is situated slightly south of Big Sur Station along Highway 1 at the end of an unsigned road known as Sycamore Canyon Road. The road is unsuitable for RVs and trailers as it has only five points at which vehicles can pass one another in opposite directions.
Pfeiffer Beach is one of the top attractions in Big Sur. The beach is most well-known for its landmark attraction Keyhole Rock, a large mass of rock, and its tide pools. You do not have to worry about exploring new things, including winning and dining while visiting the beach. For that experience, you can visit places like Big Sur Lodge, Glen Oaks Big Sur, Big Sur Campground & Cabins, Big Sur River Inn & Restaurant, and many more.
Kaanapali Beach, Hawaii
Kaanapali is located West Shore of Maui, about 50 minutes from Kahului Airport. known as a popular getaway for the world, the beach was once named America's best beach because of its three miles of white sand and crystal-clear water.
Kaanapali Beach has a lot to offer to its visitors, from world-class snorkeling and whale watching to surfing and sunbathing. It also features a variety of exceptional shops and restaurants, a renowned whaling museum and free Hawaiian entertainment, so you will indeed have multiple things to explore during your visit at the beach.
Are you planning a visit to an amazing island on the West Coast of the USA?
Further reading: Top 5 west coast islands to visit in the USA
US West Coast beaches FAQs
1. What is the nicest beach on the US West Coast?
The nicest beach on the US West Coast is Cannon Beach in Oregon.
2. Does the US West Coast have beaches?
Yes, from the glamour of Malibu to the rugged, rock-strewn shores of Washington and Oregon, there's plenty to enjoy.
3. What states have beaches on the West Coast in the United States?
The states that have beaches on the West Coast are Maui, Kauai, Malibu, and many more.
4. Which West Coast beach has the clearest water in the US?
The beach with the clearest water is Huntington Beach in California.
5. What is the largest beach on the West Coast in the United States?
The largest beach in the West Coast of the US is Long Beach Peninsula.